We are excited to invite faculty and students to Accessibility Week 2021: Disability and Social Justice! Please scroll down to read about our offerings for the week of March 15th. RSVP to all the below events via this link. Please note that all events will include CART (Communication Access Realtime Translation) captioning.
If you need individual disability-related accommodations for this event in order to be able to attend, we encourage you to inform us in advance, but ideally no later than March 8, 2021, in order for us to accommodate you. Possible accommodations can include ASL interpretation, accessible materials, and more. To make an individual accessibility request, please fill out the Event Accessibility Request Form.
Events for the Entire Community
The following events are open to the entire Barnard community. Come one, come all!
Image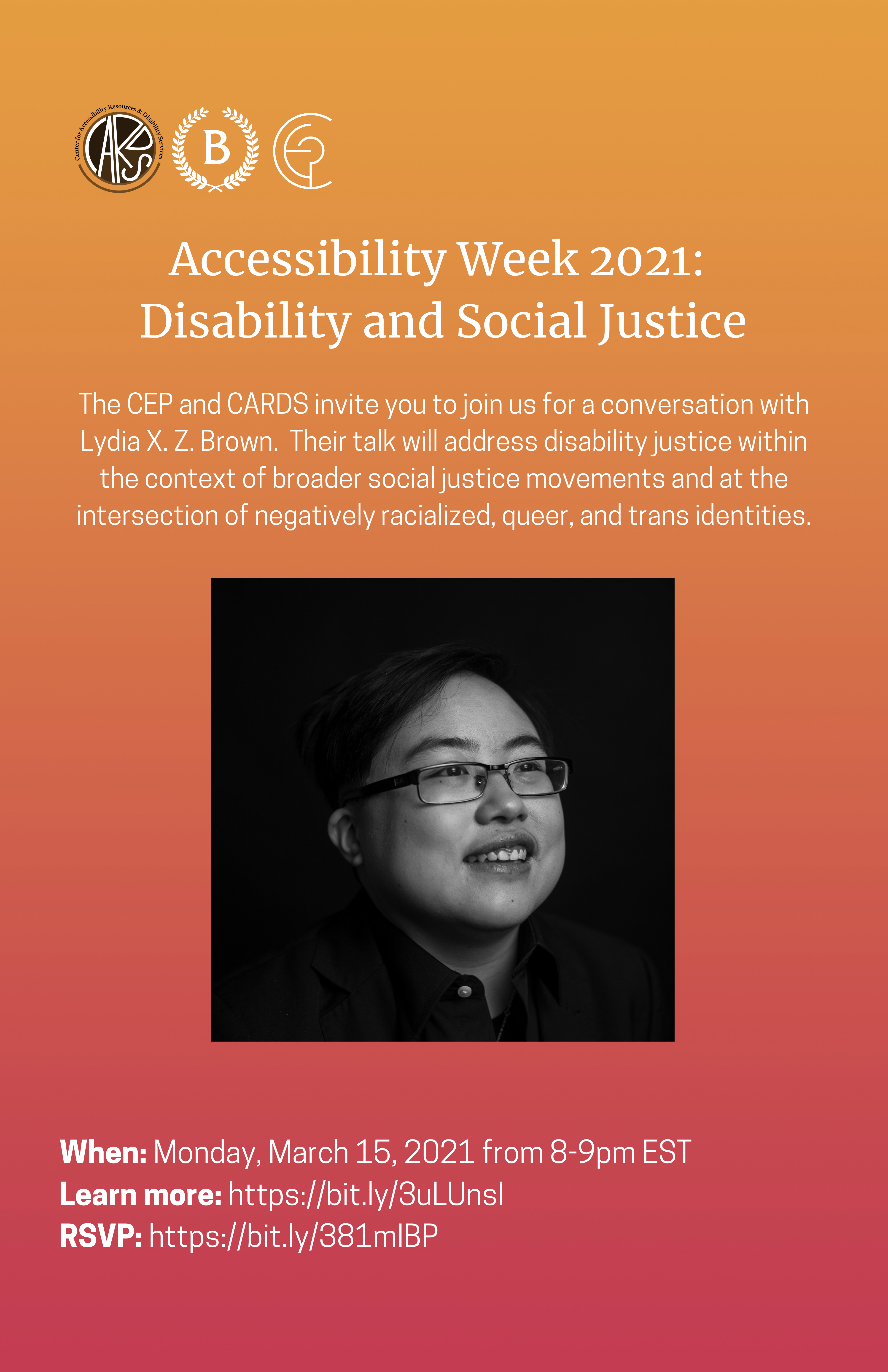 Weaving Crip, Mad, Queer, Trans Dreams: Disability Justice for Our Futures and Our Freedom, a Keynote Speech featuring Lydia X. Z. Brown
Monday, March 15th, 8-9pm
Disability Justice is a radically intersectional framework necessary to sharpen our political analysis, clarify our demands, and shape our everyday activism and organizing practice. Disability Justice offers radical and revolutionary ways of reimagining our relationships with ourselves, each other, and the communities where we live, work, and learn. During the global COVID-19 pandemic, Disability Justice offers urgent and vital interventions for addressing and ending the myriad harms of race science/eugenics, the medical/carceral industrial complex, and capitalist oppression. Disability Justice enables us to understand and examine interpersonal, systemic, structural, and institutional ableism and its intersections via legacies of pathologization with queermisia and transmisia, capitalism, settler-colonialism, and white supremacy. Disabled people at the margins of the margins have always been at the forefront of movements for justice and freedom, building networks of care and solidarity, and creating social and cultural transformations that enable us to experience rest and practice active love as co-teachers and co-learners.
Crip Camp Directors Panel
Tuesday, March 16th, 7pm
Sponsored by Elsie K. Sloate Media Center
Join the directors of the award-winning documentary Crip Camp, Nicole Newnham and Jim LeBrecht, and editor Eileen Meyer, for a panel and audience conversation about the making and production of Crip Camp, moderated by architecture faculty member Ignacio G. Galán.  Topics will include the disability civil rights movement; ways to include disability in conversations around equity; the importance of representation of disability on-screen; and other subjects.  
Watch Crip Camp made available by Netflix on YouTube.
This film is currently shortlisted for Best Documentary Feature for the 2021 Academy Awards®
Super Sonic Screening
Thursday, March 18th, 7-8pm
Super Sonic, written and directed by Saleem Gondal, opens with a hard of hearing individual communicating with a love-interest through dance. Gondal uses the film to share his experience with accepting his hearing impairment and using body language to express himself. By screening the film and hosting a post-show conversation with Gondal and representatives from CU Sign, this event will foster a dialogue that discusses the influence of narratives that feature hard of hearing characters; accessibility in film; and explores the power of sharing personal narrative.
Ableism in The Classroom, Academia, and Society: How To Create or Facilitate More Inclusive Environments
March 19, 2:00pm – 3:00pm EST
Workshop led by Selise Bourla, BC '23 Speaking Fellow and psychology major. This workshop will engage a broad discussion of ableism in the classroom, academia, and society at large. Establishing a broad discussion of ableism will create a necessary foundation for exploring some fundamental principles of inclusive spaces. We will also touch on some practical tips that can support participants in implementing inclusive practices and universal design both in the classroom and more broadly in the spaces they create, facilitate, inhabit, and lead. This workshop is for all Barnard community members.
Events for Faculty
The following events are faculty-facing. Please use the tab on the left-hand side of this page to find student-facing events and events for the entire Barnard community.
"Why Are There So Many Students With Disabilities?:" Looking at Disability from a Diversity, Equity, and Inclusion Lens
Monday, March 15th 7:00pm-8:00pm
A Panel Conversation with Ariana Gonzalez Stokas, Vice President of Diversity, Equity & Inclusion, Barnard College; Chris Baswell, Professor of English, Barnard College; and Sarah Morrison, Professor of Computer Science, Barnard College. Moderated by Holly Tedder, Director of the Center for Accessibility Resources & Disability Services. Join us for a conversation about dis/ability in academia and how this identity is important to the mission of diversity, equity and inclusion work on college campuses.
What is a "Reasonable Accommodation?" 
Tuesday, March 16th, 4:00 pm- 5:00 pm
Workshop led by Holly Tedder, Director, Center for Accessibility Resources & Disability Services (CARDS)
Disability-related accommodation requests have been on the rise in recent years, with many more students with disabilities registering with disability services nationwide. In order to help facilitate an inclusive academic environment for students with disabilities, it's critical that faculty members first understand the legal underpinnings of the reasonable accommodations process, the role of faculty in this process, and the purpose of individual accommodations. This workshop will discuss the basics of this process in order to establish a shared understanding of how best to accommodate many different students with disabilities. This workshop will also provide a foundation for faculty to start thinking about how to signal inclusiveness to students, establish a supportive classroom environment, and learn best practices for talking to students about their accommodation plans. All faculty members are encouraged to attend.    
Designing an Accessible Course
Wednesday, March 17th, 4:00 pm- 5:00 pm
Workshop led by Jennifer Rosales, Executive Director, Center for Engaged Pedagogy and Alex Pittman, Assistant Director of Teaching and Learning Initiatives, Center for Engaged Pedagogy and Term Assistant Professor of CCIS
In this session we will introduce the Universal Design for Learning framework as a way to develop accessible learning environments. Participants in the workshop will learn how and why to apply the framework to their own classes.
Universal Digital Design
Thursday, March 18th, 4:00 pm- 5:00 pm
Workshop led by Melanie Hibbert, Co-Interim Dean, Barnard Library and Information Services, and Elana Altman, Academic Technologist, Instructional Media and Technology Services
This workshop will demonstrate how to make digital documents, such as PDFs, slide presentations, and websites, more accessible through universal design principles. We will discuss common problems that arise in the digital sphere for students with disabilities, and share resources available at Barnard to help achieve universal digital design.
Events for Students
The following events are student-facing. Please use the tab on the left-hand side of this page to find faculty-facing events and events for the entire Barnard community.
Writing and Accessibility
Tuesday, March 16, 6:00-7:00 pm
Co-Sponsored by the Writing and Speaking Centers and CARDS, with support from the Office of Diversity, Equity & Inclusion and led by Penelope Usher, Professor of English, Barnard College, and others to come.
The purpose of this panel is to discuss writing and accessibility at Barnard, with a focus on general discussion of issues of disclosure, universal design, and student experience. 
Careers in Accessibility Advocacy
Wednesday, March 17, 1:00-2:00 pm
Workshop hosted by Beyond Barnard and led by Christine Valenza Shin, Associate Dean, Beyond Barnard
Panel hosted by Beyond Barnard and led by Christine Valenza Shin, Associate Dean, Beyond Barnard. Join CARDS and Beyond Barnard for a panel discussion with alumnae whose work centers on advocating for accessibility. From the private to public sector, as individual consultants or Chief Diversity Officers, hear from alumnae working to advance equal rights for people with all types of disabilities. Students interested in advocacy work of any kind will gain insight and knowledge of the varied positions, strategies, and opportunities in this important and growing field. 
Nothing About Us Without Us Shorts Program
Our colleagues at the Athena Film Festival present the "Nothing About Us Without Us" Shorts Program, a series of seven short films. The rallying cry "Nothing About Us Without Us," which began in the disability rights movements in South Africa in 1993, has since been applied to multiple movements and causes. In the film community, it has been picked up as a way to discuss authorship. Too often we see new voices represented on screen but not behind the scenes. In this program, we dive into representation. Who is at the center of the story? Who is telling the story? These films examine, celebrate, and dissect representation and visibility as it appears in everyday life and in wider communities. In these times of great change, we must keep this rallying cry ringing in our heads. We must keep asking, who is this change serving and who is leading? 
You can learn more, purchase the program, and watch the Q&A for "Nothing About Us Without Us" at this link.