Barnard Bold Conference 2021
Barnard Bold Conference 2021: Fostering a Culture of Care, Challenge, and Equity
Image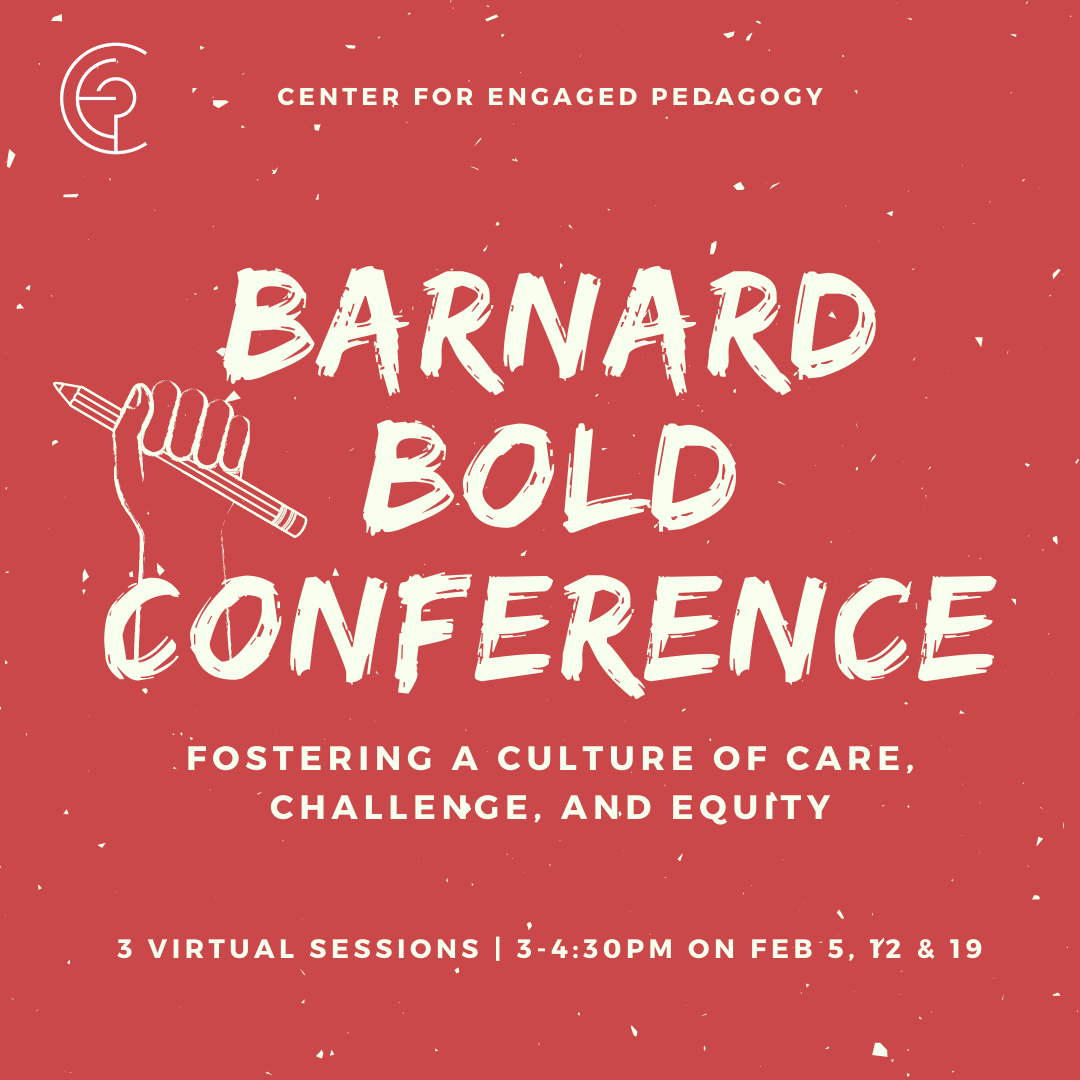 Started back in 2018, the Bold Conference is an annual event intended to facilitate conversations between faculty, staff, and students, with the intention of continuing to strengthen teaching and learning at Barnard College. This year, the Conference theme is Fostering a Culture of Care, Challenge, and Equity with three sessions (3-4:30pm EST on 2/5, 2/12, and 2/19) that center on compassionate teaching and learning, reevaluations of academic rigor and assessment, and engagement with racial equity and antiracism in the classroom.
Session 1 will feature opening remarks from Provost Linda Bell and Session 3 will feature closing remarks by VP Ariana González Stokas. We hope you can join us for one or more of the following sessions: 
Friday 2/5/21, Session 1: Compassionate Teaching & Learning: Here and Now

Friday, 2/12/21 Session 2: Reevaluating Rigor & Reassessing the Test

Friday, 2/19/21 Session 3: Embedding Antiracism in the Classroom
Please register if you are interested in attending and you will receive a Zoom link close to the session date. RSVP form.
Session Information
2/5 Session 1: Compassionate Teaching & Learning: Here and Now

In this session, we will explore what compassionate teaching and learning means and how it can be practiced in online classrooms. Compassionate learning and teaching welcomes vulnerability and empathy in the classroom. With this in mind, implementing compassionate learning and teaching practices can help create an inclusive environment where students are able to learn without feeling pressured or judged. We will think about various ways to accommodate students and how we can adapt pedagogy to prioritize well-being. In our current moment, what compassionate actions can we take to alleviate academic stressors, cultivate a sense of community, and promote a culture of care?
Panelists: Marisa Solomon, Denise Cruz, Erika Kitzmiller
2/12 Session 2: Reevaluating Rigor & Reassessing the Test

Over the past semesters, many of us have realized that the expectations and practices we used in in-person classes are not always effective in online or hybrid settings. In response, this session will focus on reimagining academic rigor and rethinking the use of assessments, particularly within an online and hybrid context. We will consider creative and thoughtful strategies to ensure student success and explore ways to redefine rigor through flexibility. We will also explore how assignments and assessments can be best adapted to support student learning while still maintaining intellectual challenge and curiosity. We will hear from both faculty and student perspectives in order to consider nontraditional and innovative ways for students to demonstrate their learning.
Panelists: Maja Horn, Rachel Austin, Terryanne Maenza-Gmelch, Caroline Fermin
2/19 Session 3: Embedding Antiracism in the Classroom

Students have made it clear that it's crucial to address race in the classroom. How can instructors embed antiracism and racial equity into the content, curriculum, and classroom practices of academic courses in meaningful ways? In this session, we will explore the tools and structures needed to engage in antiracism and racial equity, and address anti-Blackness in academic experiences at Barnard. We will hear from instructors across various departments and academic fields who will discuss how they have implemented racially inclusive practices in their respective courses, and confronted racism in their classrooms and fields. Our time together will culminate in small group discussions about how instructors can address antiracism, racial equity, and anti-Blackness in a meaningful way in Barnard classes. There will also be an opportunity for participants to share their experiences, feedback, and suggestions.
Panelists: Yvette Christiansë, Alex Pittman, Logan Brenner, Amy Zhou, Alexandra Watson