Barnard Bold Conference 2022
Image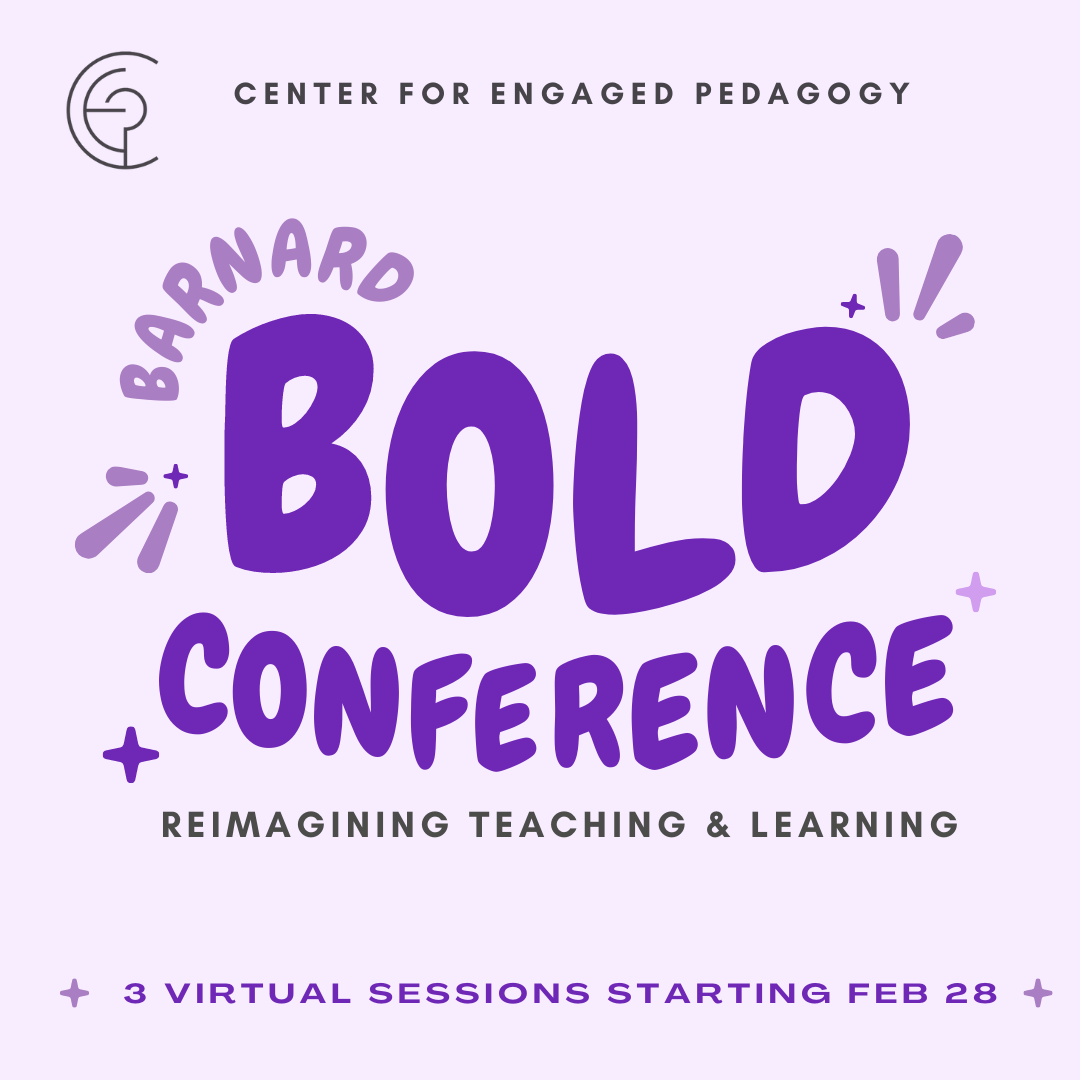 Session Details
The Bold Conference is an annual student-led event intended to facilitate conversations between faculty, staff, and students, with the intention of continuing to strengthen teaching and learning at Barnard College. This spring, the theme was "Reimagining Teaching and Learning." This conference featured three virtual sessions on reimagining engagement, care and compassion in the classroom, and rethinking assessments. Watch the recordings of the first and third session below.
Session 1—Evolving Engagement: Reimagining Educational Experience
Mon February 28, 2:30-4:30pm
View the recording for Session 1—Evolving Engagement: Reimagining Educational Experience.
Featuring Dr. Madisson Whitman (Columbia University Center for Science & Society) and Tori Sproat (Columbia School of General Studies, Biological Sciences)

After almost 2 years of teaching and learning impacted by the pandemic, we are left to wonder how to engage in the classroom when the classroom is no longer its "traditional" space. In this session, we will focus on how students and faculty can regain agency in deciding ways of engagement and work to reimagine modes of classroom interactions. This session will ask: Why do we ascribe to particular standards of engagement that we do not agree with (or even like)? What can we do to make engagement accessible to all members of our community? How can we make classroom space an environment where multiple modalities of teaching and learning can be appreciated?

We will consider how students and faculty can co-create the classroom experience while also exploring ways of nontraditional forms of engagement. We will hear from a panel of students and faculty and make alterations to a mock syllabus to consider how our academic goals and needs can be met while also meeting our desires to be fully active and present in the classroom.
**POSTPONED** Session 2—Care & Compassion: Approaches in the Classroom
Rescheduled for Wed March 24, 1-2:30pm, in person (Milstein LL0002)
Featuring Prof. Fawziah Qadir and Rachel Elkis (BC '22 & Beyond Barnard)
Over the past semesters with COVID, many of us have faced academic and nonacademic challenges with the transition to online learning and now with the transition back to in-person learning. In response, this session will focus on how we can offer emotional support to one another in the classroom. This session aims to rethink how we might bring care and compassionate approaches into the classroom, particularly during a time of transition. At the start of this session, we will hear about creative and compassion-based strategies from panelists. We will then explore how faculty, students, and staff can best support each other by facilitating a series of conversations amongst participants.
Session 3—Examining Exams: A Reimagination of Traditional Assessments
Friday March 4, 2-4pm
View the recording for Session 3—Examining Exams: A Reimagination of Traditional Assessments.
Featuring Prof. Gina Jae (Anthropology), Prof. Gale Kenny (Religion), Maria Rivera Maulucci (Education) and Rebecca Sime Nagasawa (CARDS)

This session aims to address the possibility of reimagining how students and instructors approach assessment in the classroom. We will consider the benefits of embracing alternative assessments for both instructor and student and recognize the challenges in transitioning to a more holistic grading and assessment process. Our conversation will allow us to think critically about the strengths and limitations of holistic assessments while considering the importance of empathy in the classroom and instructor/student flexibility. Our goal is to consider how we can modify assessments in a way that supports student's learning goals and allows them to demonstrate their learning and progress. While exploring this topic, we hope to engage with the idea of trust and compassion between the instructor and student and encourage instructors to allow students to take ownership of their learning.