Image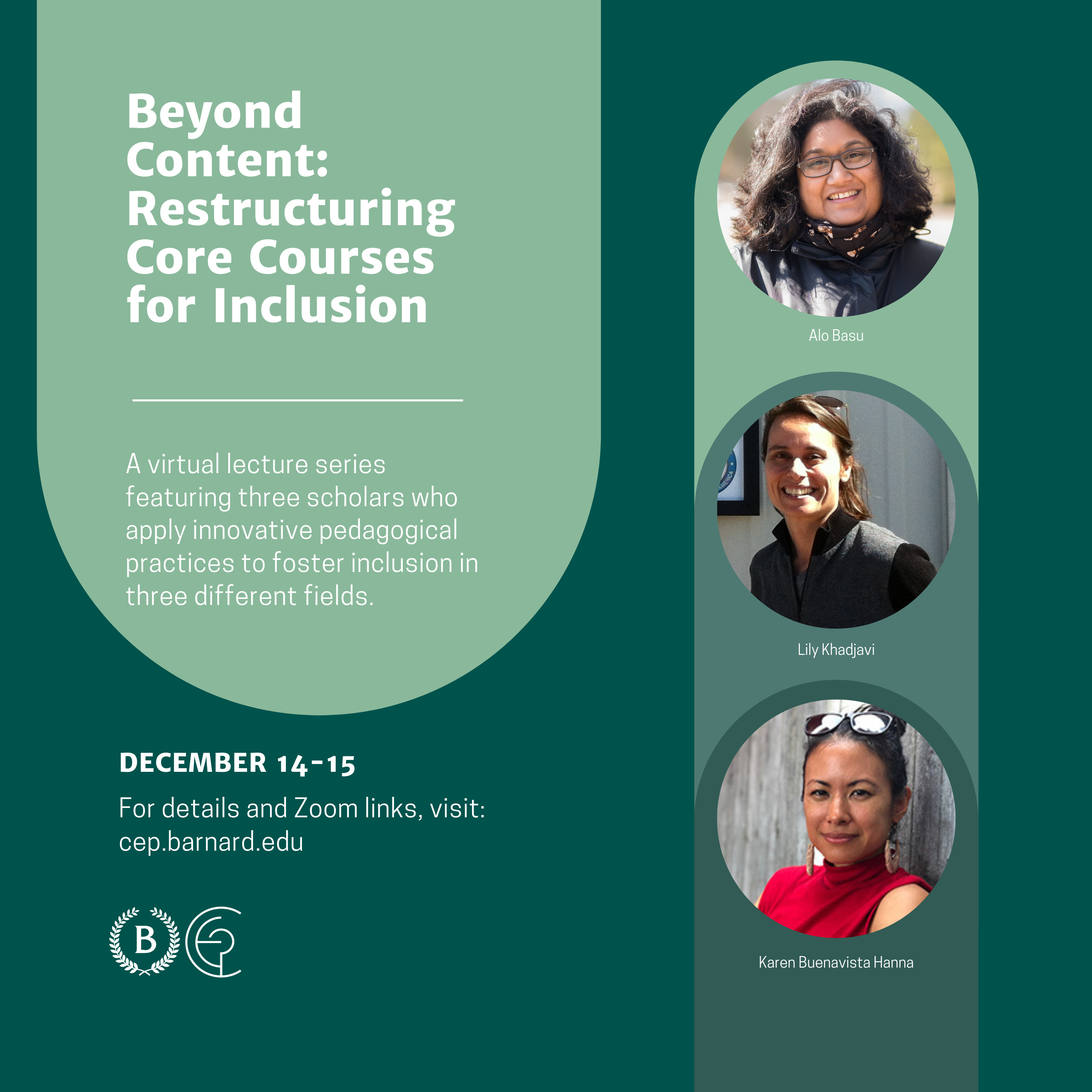 The Center for Engaged Pedagogy invites you to our 2021 Beyond Content Series: Restructuring Core Courses for Inclusion. This will be a two-day lecture series featuring three scholars who apply innovative pedagogical practices to foster inclusion in three different fields. You can read more about each speaker and lecture below.
Please RSVP for one or more sessions via this Google Form. 
Lecture Descriptions & Speaker Bios
Cultivating Inclusion in STEM: Imagining the Future
DECEMBER 14, 10:30AM—12PM

This talk will explore barriers to inclusion embedded in the content and culture of the introductory STEM experience, encountered through an immersive year-long study of introductory biology, chemistry, mathematics, and physics courses. What choices do educators have in how we introduce students to STEM? How can we change our practices and our mindsets to promote broader achievement of STEM learning goals? How will we prepare ourselves for a more inclusive future?

Alo Basu is Director of the Neuroscience Program and Associate Professor of Neuroscience in the Department of Psychology at the College of the Holy Cross. Over the past five years, she has led the development of an inclusive neuroscience program and its integrative core curriculum using an anti-deficit, achievement-oriented framework to promote broad-based engagement and proficiency across STEM disciplines.
Social Justice in the Mathematics Classroom: Policing and Racial Profiling
DECEMBER 14, 1:30—3PM

This session will focus on authentic engagement with issues of social justice in the mathematics classroom, with a specific focus on policing and racial profiling. This topic is particularly relevant now, as concerns around racial profiling are at the forefront of national conversations. By showcasing pedagogical approaches to this critical topic, we'll get a window into the story that data tells and how this may empower students.

Lily Khadjavi is a Professor of Mathematics at Loyola Marymount University in Los Angeles. Dr. Khadjavi's scholarly activity lies in the intersections of mathematics and social justice and in broadening participation in the mathematical sciences. Her research interests include policing and the issue of racial profiling, and in 2020 she was appointed by the State Attorney General to the Racial and Identity Profiling Act Board which works with the California Department of Justice.
Pedagogies in the Flesh: Toward an Anti-Racist Feminist Classroom
DECEMBER 15, 1:30—3PM

In the classic anthology, This Bridge Called My Back, Cherrie Moraga writes, "A theory in the flesh means one where the physical realities of our lives— our skin color, the land or concrete we grew up on, our sexual longings— all fuse to create a politic born out of necessity." Likewise, "pedagogies in the flesh" never allow us to separate teaching from these physical embodiments.  Drawing on queer and women of color theoretical frameworks, this presentation explores the concept of pedagogies in the flesh, which Dr. Hanna argues are necessary to counter the way educators and students might unknowingly facilitate and reproduce psychic racial violence in the college classroom. 

Karen Buenavista Hanna is an Assistant Professor of Gender, Sexuality, and Intersectionality Studies at Connecticut College. Her writing about transnational feminism, Pilipina/o/x social movements and activism, pedagogy, and disability has been published in numerous anthologies, journals, and magazines including Amerasia Journal, Frontiers: A Journal of Women Studies, and Hypatia: A Journal of Feminist Philosophy. She has been awarded fellowships from the Mellon Foundation, American Council of Learned Sciences, and the Woodrow Wilson Foundation. From 2003-2011, Hanna was a public school and GED teacher and community organizer working alongside Pilipina/o/x domestic workers and immigrant youth in New York City. These experiences inform her approaches to research, pedagogy, and continued community work.