CEP Indigenous Peoples' Day Read-a-Thon
CEP Indigenous Peoples' Day Read-a-Thon
Monday October 11, 2021, 12-5PM | 

Milstein 126 and Online
Image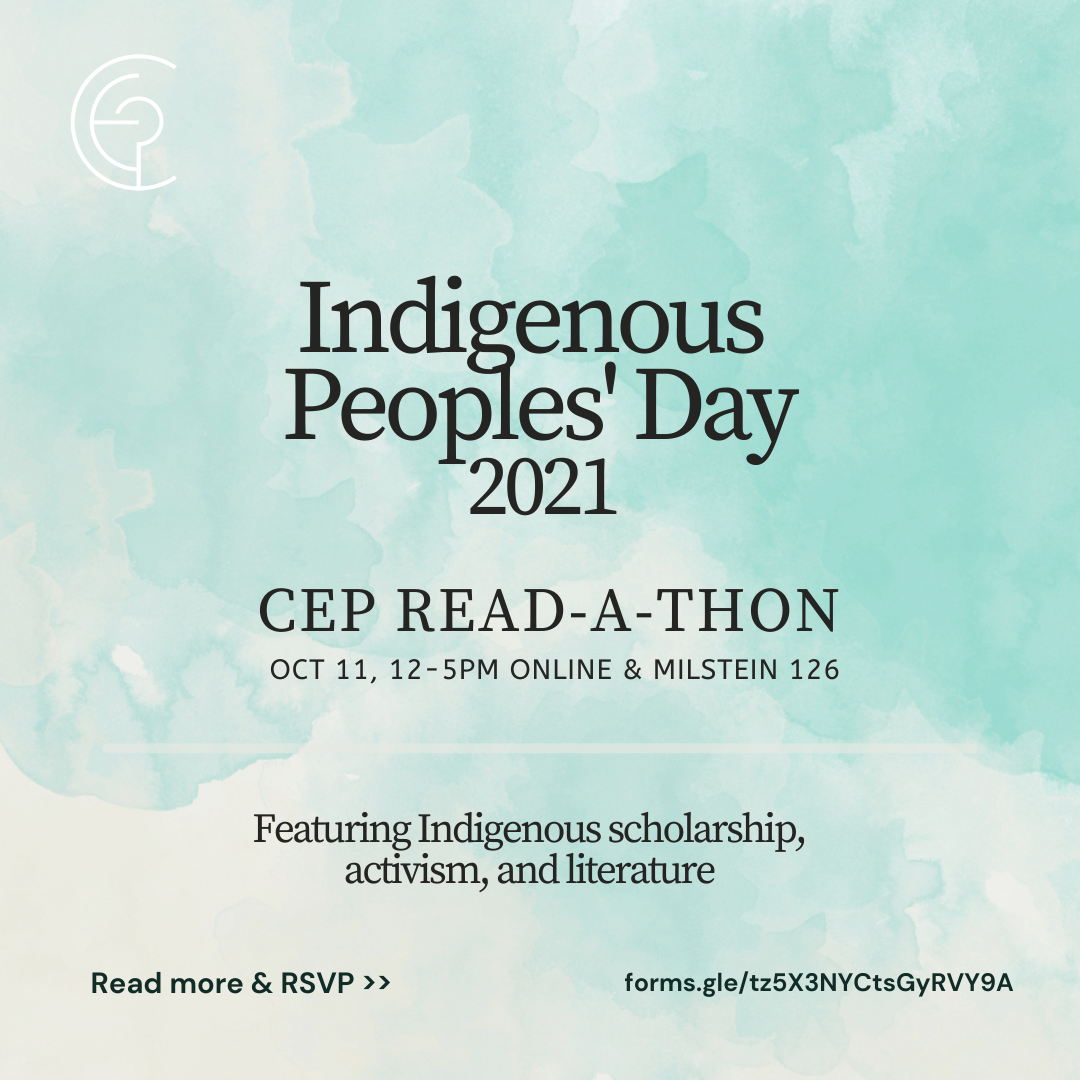 On Indigenous Peoples' Day, the CEP will be hosting an afternoon read-a-thon featuring Indigenous scholarship, activism, and literature. This event is intended to not only highlight the important work of Indigenous writers and thinkers, but also to build mindfulness towards our individual and collective relationship to land and disrupt narratives of Indigenous invisibility.
At 12pm, join us for a livestream in which staff and affiliates of the CEP will read aloud from a curated collection of texts by Indigenous thinkers and writers. Then, from 1-5pm, drop by the CEP in 126 Milstein to read quietly in community with Barnard faculty, staff, and students from our curated selection of printed readings and other materials.
This event is open to students, faculty, and staff. If you are interested in attending either or both parts of the read-a-thon, please RSVP via this form.
Read-a-Thon Audio Recording
To view the compilation of excerpts that were spoken at the event, please click here. You can find find full digital copies of individual featured readings below.
Land Acknowledgment Series
Beginning on October 27th, the CEP will facilitate a Land Acknowledgment series. This project will be a recurring learning community open to faculty, students, and staff, convening for 3 total sessions on Wednesdays from 4-5pm during the fall semester. Throughout these sessions, participants will work their way toward drafting a thoughtful and action-oriented land acknowledgment and engage in discussions regarding what it means to "go beyond" written or spoken recognition. 
Learn more here.