Fall 2021 Land Acknowledgment Series
Image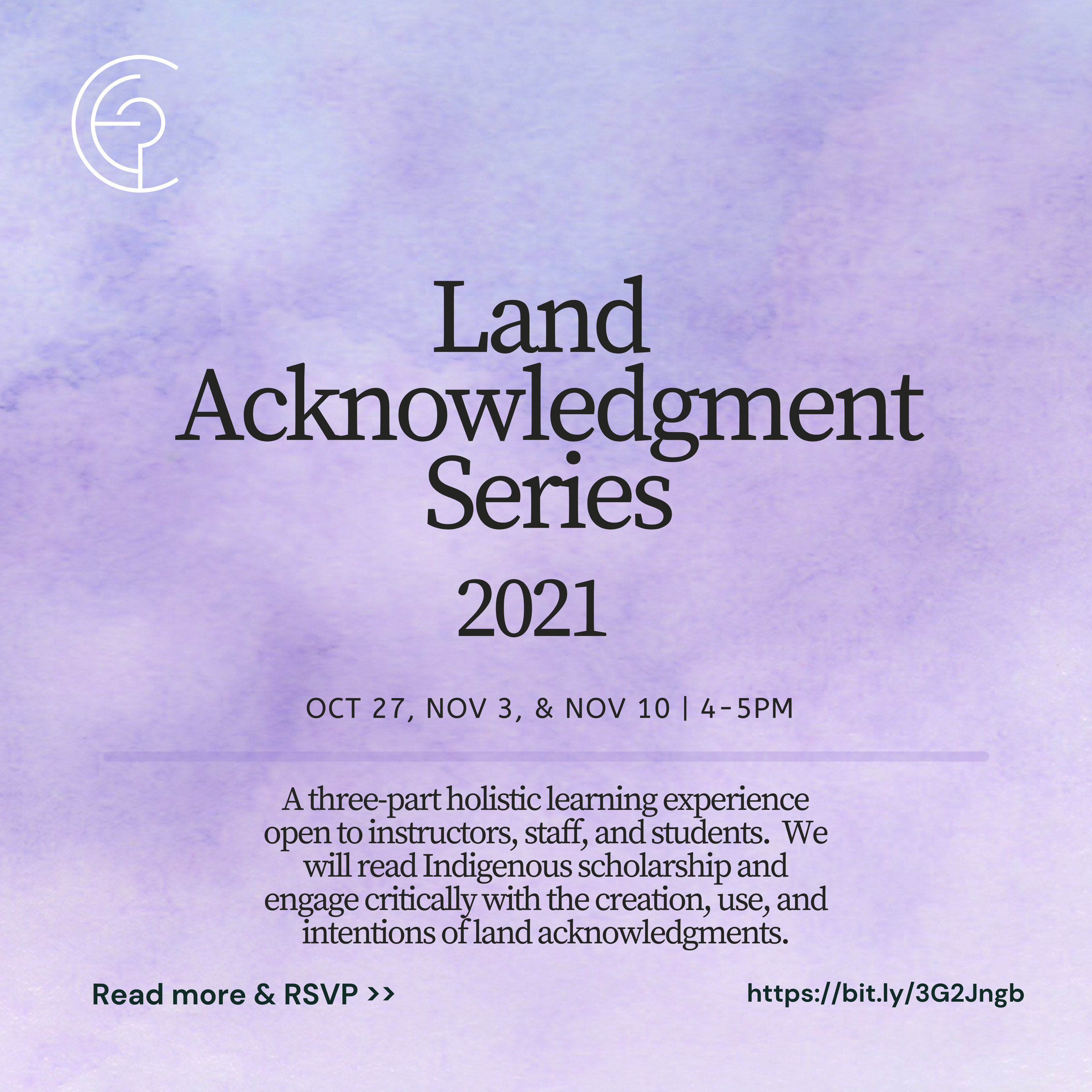 From October 27th to November 10, the CEP facilitated a Land Acknowledgment series. This project was a recurring learning community open to faculty, students, and staff, convening for 3 total sessions on Wednesdays from 4-5pm during the fall semester. Throughout these sessions, participants read Indigenous scholars' work on written and spoken acknowledgements, grappled with how to be in thoughtful, action-oriented relationship to land, and engaged in discussions regarding what it means to 'go beyond' written or spoken recognition.
Series Summary
Session 1 on Wednesday, October 27 from 4-5pm: Intro & Language
In Session 1, we meditated on how to be specifically attentive to the ways we use language in describing Indigenous people and land, including how language reproduces settler colonial violence and settler time. In order to do so, we read aloud and discussed the beyond land text and how it built on / challenged our previous knowledge about land acknowledgements; we laid groundwork for us to really talk about limitations and possibilities of land acknowledgments in the next session.
Session 2 on Wednesday, November 3 from 4-5pm: Location, Place, and Space
In Session 2, we unpacked language at a more detailed level by brainstorming implications of words/phrases commonly used in land acknowledgments and identifying whether those implications contributed to indigenous erasure, contributed to empowering indigenous futurity, or suggested a more complex dynamic. We also looked at Columbia's land acknowledgment plaque, discussed the history of how it came into existence, and unpacked some of the politics behind both its language and the process behind its implementation.
Session 3 on Wednesday, November 10 from 4-5pm: Writing a Land Acknowledgment—
In Session 3, we began drafting written, personal land acknowledgments as a way of identifying our positionality within as well as our relationships and connections to land and communities that have and continue to reside on this land. We worked on a guided free write together and reconvened with a reflective discussion/brainstorm. Keeping in mind our generative conversations in previous sessions about the limitations of settler land acknowledgments, we approach land acknowledgment as a personal, reflexive practice to explore how we might situate ourselves in relation to land and communities. We see the writing component of this work as a form of processing, drafting, working through that is not always for an audience, but rather for ourselves—this session's writing is not meant to be a polished statement to be read at an event or gathering. Finally, we also identified areas of work, research, and learning we might take on beyond written or spoken acknowledgments, and compiled some supporting resources as a collective. 
If you would like access to the Google Drive folder of resources and notes we compiled for the sessions, please send an email to pedagogy@barnard.edu and we will be in touch.
Beyond Land Acknowledgment
The following excerpt is from the article "Beyond Land Acknowledgment in Settler Institutions" by Theresa Stewart-Ambo and K. Wayne Yang, published in the journal Social Text in March 2021 as part of an issue on the theme of "Educational Undergrowth." This article as a whole explores the limitations and possibilities of land acknowledgments in settler contexts, specifically universities. We wanted to focus on and share this article because Stewart-Ambo and Yang specifically "write to/for those inside and outside of the university who are thinking and working through land acknowledgment processes" (21). 
We found their work particularly generative for our own context at Barnard, whose ongoing occupation of Lenapehoking land continues to enact colonial violence upon Native communities as well as Black and Latinx residents living in Harlem. In our work at the Center for Engaged Pedagogy, we have striven to offer land acknowledgements as a way of recognizing these forms of violence as well as drawing attention to historical and ongoing Indigenous resistance and presence. At the same time, we also feel it is important to grapple with the limitations of what a land acknowledgment can do in the context of an institution like Barnard, and we found this article helpful in providing space for this grappling to occur: 
We may be in a moment of hegemony when land acknowledgment in the United States is achieving common sense status as a good practice that all institutions should observe. As with any hegemonic moment, there are real decolonizing opportunities that this moment affords us—especially for those of us in (but not of) the university and other such settler institutions—even while that moment is expiring and even though that (counter)hegemony already feels compromised. Theoretically, it is also important for critical university studies to interrogate what land acknowledgment does, where it comes from, where it is pointing. The title of this special issue, "Educational Undergrowth," might refer to the deeper sovereignty of land, the literal undergrowth and underground, the before and beyond of the university built atop it. This Indigenous undergrowth is different from but connected to other metaphorical forms of undergrowth, such as the precarious projects and people who burgeon in the mulch of the composting university, like transplanted plants growing in cracks or air plants surviving off of seemingly nothing. Land moves us from an anthropocentric concept of the university and from figurative undergrowth toward literal plants and nonhuman persons. In this vein, we are also reminded by how land teaches us and therefore how land acknowledgment should forward land pedagogy. (23)
Read full article here.