Trauma, Repetition, and Repair 2023
Image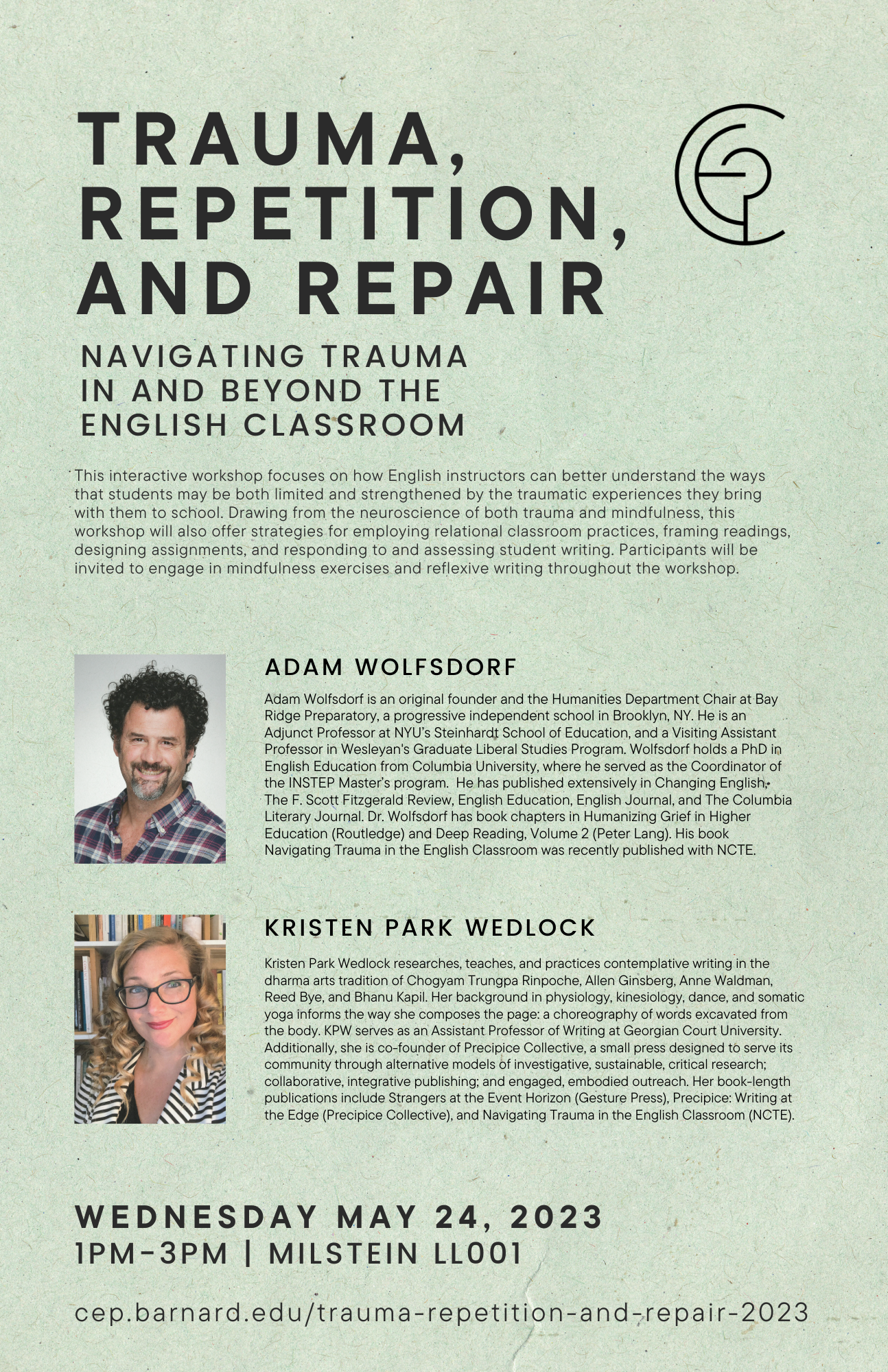 The Center for Engaged Pedagogy invites you to our 2023 Trauma, Repetition, and Repair Event on May 24th from 1-3pm in Milstein LL001 (Flexible Classroom). You can read more about each speaker and their workshop below.
Please RSVP via this form.
Trauma, Repetition, and Repair: Navigating Trauma in and Beyond the English Classroom
Navigating Trauma in the English Classroom is an interactive workshop focused on how English instructors can better understand the ways that students may be both limited and strengthened by the traumatic experiences they bring with them to school. By exploring how trauma impacts students' ability to read literature, write personal narratives, and engage in vulnerable discussions, English instructors can be more prepared to engage with students who may be sensitive to potentially triggering content.
In addition to offering English instructors a foundation in the neuroscience of both trauma and mindfulness, this workshop provides strategies for employing relational classroom practices, framing readings, designing assignments, and responding to and assessing student writing. We recognize that building trauma-conscious learning communities requires a transfer of knowledge, an application of skills, and also an embodied praxis. Participants will be invited to engage in mindfulness exercises and reflexive writing throughout the workshop. Offering English instructors embodied, trauma-informed professional development is an investment in the well-being and sustainability of individual instructors and in the health and effectiveness of learning communities. 
In our book Navigating Trauma in the English Classroom and during this interactive workshop, we propose that in the process of more fully understanding trauma, English instructors will, de facto, more skillfully learn to make connections to their curriculum, their students, and themselves. Please, join us in a conversation that dignifies the complexities of trauma, recognizes our historically undermined attempt to address trauma in the classroom, and advocates for both individual support and structural change in the education system.
Event Schedule
12:45-1:00pm: Arrive early for lunch
1:00-1:10pm: Welcome and event introduction by the CEP
1:10-1:20pm: Faculty introduction by Nicholas Bartlett (Dept. of Asian and Middle Eastern Cultures)
1:20-2:50pm: Trauma in and Beyond the English Classroom Workshop with Kristen Park Wedlock and Adam Wolfsdorf
2:50-3:00pm: General discussion and Q&A
Speaker Bios
Kristen Park Wedlock researches, teaches, and practices contemplative writing in the dharma arts tradition of Chogyam Trungpa Rinpoche, Allen Ginsberg, Anne Waldman, Reed Bye, and Bhanu Kapil. Her background in physiology, kinesiology, dance, and somatic yoga informs the way she composes the page: a choreography of words excavated from the body. KPW serves as an Assistant Professor of Writing at Georgian Court University. Additionally, she is co-founder of Precipice Collective, a small press designed to serve its community through alternative models of investigative, sustainable, critical research; collaborative, integrative publishing; and engaged, embodied outreach. Her book-length publications include Strangers at the Event Horizon (Gesture Press), Precipice: Writing at the Edge (Precipice Collective), and Navigating Trauma in the English Classroom (NCTE). KPW claimed her M.F.A. in Writing and Poetics from Naropa University as well as her B.S. in Exercise Science from Rutgers University. In addition to her formal education, KPW earned a certificate from the Brown Contemplative Studies ICP Summer Program at Brown University, a 200-hr Yoga Teacher Certificate in Soma Yoga and Movement Re-Education from Princeton Center for Yoga and Health, and an Integrative Somatic Therapy Certificate from the Embody Lab.
Adam Wolfsdorf is an original founder and the Humanities Department Chair at Bay Ridge Preparatory, a progressive independent school in Brooklyn, NY. He is an Adjunct Professor at NYU's Steinhardt School of Education, and a Visiting Assistant Professor in Wesleyan's Graduate Liberal Studies Program. Wolfsdorf holds a PhD in English Education from Columbia University, where he served as the Coordinator of the INSTEP Master's program. He has published extensively in Changing English, The F. Scott Fitzgerald Review, English Education, English Journal, and The Columbia Literary Journal. Dr. Wolfsdorf has book chapters in Humanizing Grief in Higher Education (Routledge) and Deep Reading, Volume 2 (Peter Lang). His book Navigating Trauma in the English Classroom was recently published with NCTE. Outside of the English classroom, Wolfsdorf has performed professionally for 25 years. He appeared in the national tours of the Broadway musicals  RENT (with Neil Patrick Harris) and Grease. He fronts the nationally touring rock band, The Energy (MTV, NBC, ABC, and ESPN). Wolfsdorf received his MA in Psychology and Education from Columbia University and holds a BA in English from Harvard University.