Student Guide to Generative AI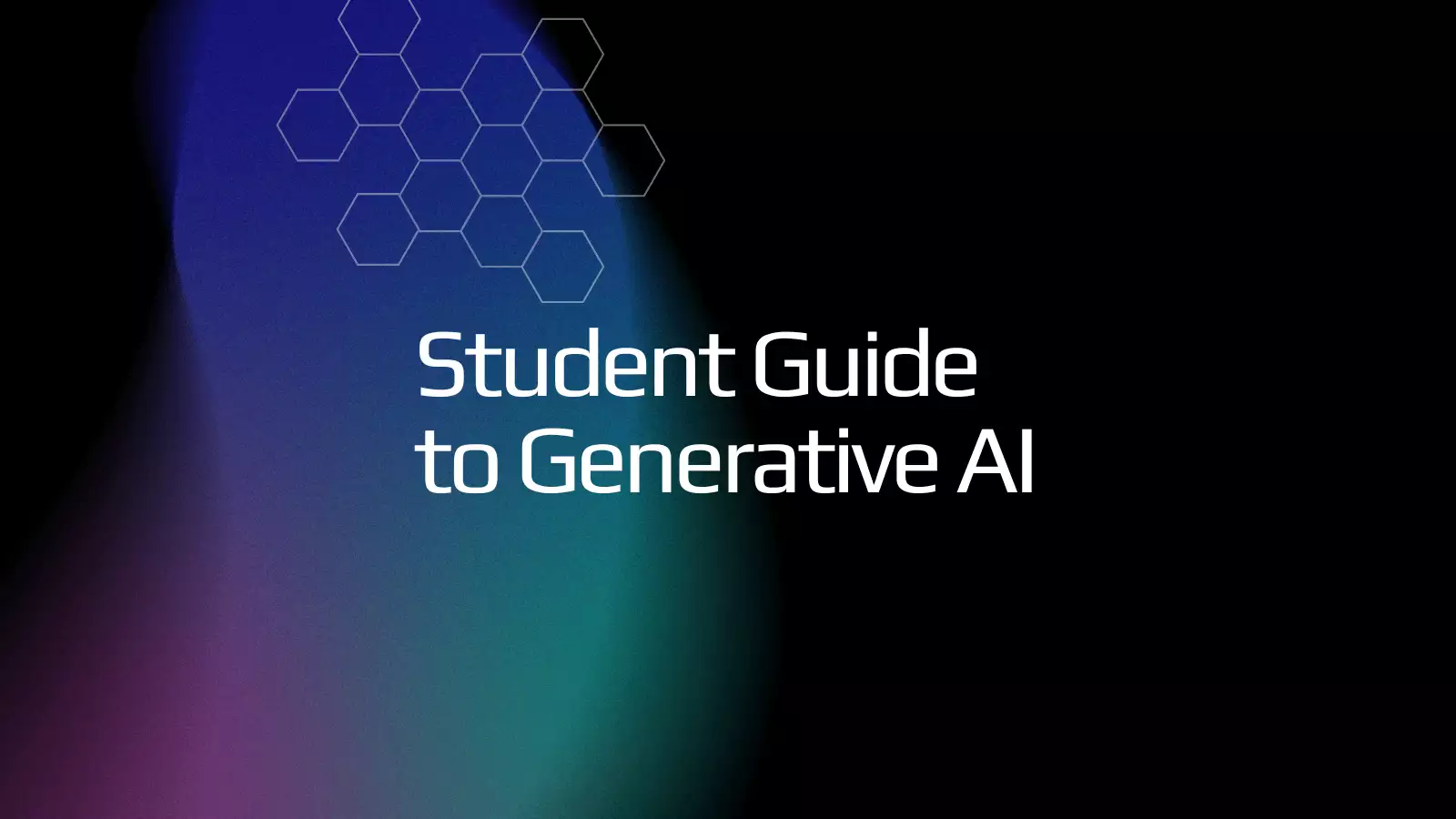 Introduction
Hello there! This is the CEP's accompanying student guide to ChatGPT and other generative AI tools. Our aim, as recent and current students of Barnard, is to provide students with an introductory knowledge of generative AI and critical understanding of its impact on academic integrity and scholarship. The CEP would also like to thank the IMATS team for providing extensive feedback on earlier drafts of this guide.
What is generative AI?
You might have heard of ChatGPT (Chat Generative Pre-Trained Transformer), a newer AI product under the umbrella of generative AI, that has gained popularity within classrooms and among students as tools writing, editing, and organizing information. Generative AI is a type of artificial intelligence that creates new content, based on what it has learned from existing content. The process of learning from existing content is called "training," and results in the creation of a statistical model. When given a prompt, generative AI uses this statistical model to predict what an expected response might be - and thus generate new content.   
ChatGPT is a generative AI tool developed by OpenAI and released for public beta testing in November 2022. Using a pre-trained language model, ChatGPT takes text prompts from users and produces responses that are supposed to mimic human writing in dialogue format. Notable features include its ability to answer questions, hold a conversation, summarize information, write computer code, and more. 
ChatGPT's language model is trained on very large datasets of text data available on the internet, including websites, books, and other texts; these datasets are estimated to contain nearly one trillion words in multiple languages. This includes labeled data, which includes annotations set by humans that guide the language model in categorizing data correctly, as well as unlabeled data (sometimes called "raw data"), which does not contain any annotations. OpenAI improved the model's accuracy by having people evaluate and correct its analysis of the unlabeled data, enhancing its ability to produce written language.
Our understanding of ChatGPT, and generative AI in general, will continue to evolve. At the CEP, we will continue to consult with IMATS, the Digital Humanities Center, and the CSC to guide faculty and students alike with utilizing this new learning tool.
Academic integrity
Some students have already begun using ChatGPT to aid in their studies; however, it is important to note that ChatGPT and any emerging generative AI tools cannot replace the value of independent thinking or scholarship. Each of your instructors may have their own position on what constitutes academic dishonesty with respect to these tools, but most advice emerging from across disciplines warns against directly copying responses from ChatGPT or feeding it an essay prompt and claiming the response as your own.
Your instructors may also include participation, group work, and engagement with others as part of your final grade and as a key component of the learning in the course. Relying on ChatGPT as your sole interlocutor could also be considered a form of academic dishonesty, if other forms of collaboration are expected.
The Center for Engaged Pedagogy encourages you to talk to your professors and ask what their policies are if ever you are unsure. MLA and APA both have put out guidance on how to cite generative AI tools in academic writing. This resource spells out various approaches for citation based on different style guides.
While ChatGPT can provide fast and seemingly comprehensive responses to exploratory inquiries compared to search engines like Google, there are serious limitations to consider, and any responses generated should be fact checked. When in doubt, consult legitimate sources or develop the background knowledge necessary to analyze the content generated by AI.
Limitations
Understanding the limitations of Generative AI, particularly language models like ChatGPT, is crucial when using them for learning purposes. AI tools are only as good as the prediction models and training data that they are built from. This means that an AI tool's knowledge is limited to what it was trained on, and an algorithm fed inaccurate training data will produce poor results. The initial training data for ChatGPT was sourced from resources across the internet, consisting of a vast amount of text from websites, articles, books, and other written materials. Additionally, examples of human conversations and dialogues for over 95+ languages were also fed to the learning model. Despite the vast amount of data available, we want to emphasize that there are still limitations to uses of ChatGPT be aware of. At the same time, some of the limitations that are specific to ChatGPT do not apply to other generative AI models. For example, other models can access the internet.
One significant limitation of generative AI tools is their susceptibility to biases and stereotypes present in the data used to train the model. These machine learning tools pool data from sources within the training data. In many ways, tools like ChatGPT offer a reflection of the prejudices and conscious and unconscious biases of humanity at large. For this reason, anyone using this technology should be aware that generative AI cannot necessarily recognize biases, and thus can amplify inaccuracies and biases as fact without disclosure.
Another serious limitation of ChatGPT, and similar technology, is the fact that it often "hallucinates" or makes up information. There are enormous ethical implications to this, and in the research and writing process, it is crucial that students understand that sources produced by ChatGPT can be entirely made up and not actually correspond to real sources.
Although the responses of ChatGPT are generated in real-time, they may not always be up to date. The model was last trained in September 2021, meaning it may give outdated responses unless its training data is updated. Unlike search engines like Google which can provide the latest information, ChatGPT isn't trained to search the internet and pull information while being used.
While you may have heard tools like ChatGPT compared to the calculator within the history of technological innovation, ChatGPT is actually not a calculator and cannot perform calculations. If you ask ChatGPT to calculate something for you, you may notice that it is inconsistent in its responses. This is because it treats all numbers as text or string and is only making an educated guess on the correct answer. If you do ask ChatGPT to provide such an educated guess, we recommend comparing your results with a calculator or a tool designed to calculate equations.
How to effectively use ChatGPT with integrity
As a scholar, when using generative AI tools like ChatGPT, it is important to follow a checklist to ensure the accuracy and credibility of the information you obtain. Since ChatGPT does not provide citations and may formulate answers based on biased data, it is crucial to cross-reference any information obtained from the tool. Additionally, it is essential to analyze the information provided by the AI tool to draw your own conclusions, treating it as an interlocutor rather than as a reliable source of information. To limit the range of possible answers, it is recommended to be specific. If necessary, rephrasing or providing more context can also help ensure that the information obtained is relevant and useful. The more background knowledge you have as a researcher, the better your ability to draw your own conclusions and correctly identify misinformation within the AI generated responses.
General checklist when using generative AI tools
Did I cross-reference the information I'm using?

Does the manner in which I am using this generative AI tool allow for me to still come to my own conclusions? 

Did I come to these findings prior to or after using generative AI? 

Have I informed myself on the subject matter using other methods prior to using generative AI?
Prompts, functions and scenarios to explore critically with generative AI tools
Think of generative AI tools as a interlocutor or brainstorming tool. You can gain a lot more from providing specific instructions through generative AI than you can from asking it to produce original content.

Example: Can you think of 5 titles for a [subject] paper on [insert context]?

Example: Can you organize these notes [input] into an outline?

Example: Can you create flashcards from these notes [input notes]?

Caution! Providing ChatGPT with one's own original work can pose privacy concerns since it is a learning machine that takes in input it receives to produce information. While User inputs are not incorporated into the large language model,

they are visible to and stored by OpenAI

, and may be used to develop future iterations of the tool.
Example: Can you provide writing prompts about [subject matter]?

Example: Can you provide practice problems for [subject]?

Note: Get specific with your instructions–add a quantity to your request, the genre of your request, or format.

Example: Can you provide 5 creative writing prompts about [subject matter]

Example: Can you provide 10 multiple choice practice problems for [subject]?

Note: Sometimes ChatGPT will not produce the correct amount of prompts if the quantity asked is too high.
Example: What are

the different perspectives on X

?

Limitation: ChatGPT has data only up to September 2021. If you were to ask it about an event or subject that occurred in recent history, the model will produce an educated guess that is likely inaccurate.
Could you summarize this article [Title] by [Author]?

Limitation: Note that when ChatGPT does not have information or enough context for the question or article inquiry, it will make up information and present it as part of the summary. This phenomenon is called "

hallucination

" in AI speak. Always cross-reference work that you use from generative AI.

Note! ChatGPT can't do this accurately unless you copy + paste the article into the text box or have a plus subscription and use a plugin. Other AI models, however, can do this.
Example: Can you provide me with a cover letter template?

Example: Can you write an email asking for a letter of recommendation?

Note! These templates can be more helpful

the more you specify

what you need the template for. It will also be important for you to make substantial edits within these templates to best suit your needs.
You can provide ChatGPT with an excerpt of your work or lines of code for it to analyze.

Caution! Providing ChatGPT with original work can pose privacy concerns since it is a learning machine that takes in input it receives to produce information.

Note! Feedback on code is limited by its inability to execute code, so any claim that a particular code will work is a "text-based" prediction.
ChatGPT has been programmed to know over 95+ languages and can provide scenarios and

dialogues to help language learners

.

Example: Can you translate [phrase] in the context of an [event] into [language]?

Can you translate "I am sorry" in the context of a business meeting into Mandarin?

Example: Can you provide me with a sample scenario for [event/action] in [language]?

Can you provide me with a sample scenario for asking for the bill in Spanish?

Note! The scenarios ChatGPT provides may use language that is too formal in tone which might not reflect how current speakers of the language actually communicate with each other.

Note! The program does not work as well with less popular languages, and in any language can make up words. If you're in a language learning class, it's likely not appropriate to use ChatGPT this way.
As you can see, the functions and capacities of ChatGPT come with a lot of limitations and precautions to note while in utilization. Again, our understanding of generative AI tools and its applications will only continue to grow. We encourage creative but also critical and informed explorations of these generative AI tools.
Resources and references
The Barnard College Center for Engaged Pedagogy. (n.d.). Generative AI & the College Classroom. Retrieved May 1, 2023, from https://cep.barnard.edu/generative-ai-college-classroom
Bostrom, N. & Yudkowsky, E. (2009). "The Ethics of Artificial Intelligence." Cambridge Handbook of Artificial Intelligence, edited by Keith Frankish and William Ramsey. New York: Cambridge University Press. https://intelligence.org/files/EthicsofAI.pdf
Byford, S. (2017, May 14). The hot dog-identifying app from HBO's Silicon Valley is real, and you can download it now. The Verge. https://www.theverge.com/tldr/2017/5/14/15639784/hbo-silicon-valley-not-hotdog-app-download
The Columbia University Center for Teaching and Learning. (2023). Learner Perspectives on AI Tools: Digital Literacy, Academic Integrity, and Student Engagement. https://ctl.columbia.edu/faculty/sapp/ai-tools/
Dzieza, J. (2023, June 20). AI is a Lot of Work. The Verge. https://www.theverge.com/features/23764584/ai-artificial-intelligence-data-notation-labor-scale-surge-remotasks-openai-chatbots
Kokoski, C. (2023). 650+ Best Prompts for ChatGPT (Ultimate List for 2023). WritingBeginner. https://www.writingbeginner.com/best-prompts-for-chatgpt/
McKinsey & Company. (2023, January 19). What is Generative AI? https://www.mckinsey.com/featured-insights/mckinsey-explainers/what-is-generative-ai
McMurtrie, B. (2023, March 30). Teaching: What You Can Learn From Students About ChatGPT. https://www.chronicle.com/newsletter/teaching/2023-03-30
Mollick, E. R. & Mollick, L. (June 12, 2023). Assigning AI: Seven Approaches for Students, with Prompts. http://dx.doi.org/10.2139/ssrn.4475995
The National Cyber Security Centre. (2023, March 14). ChatGPT and large language models: what's the risk? https://www.ncsc.gov.uk/blog-post/chatgpt-and-large-language-models-whats-the-risk
OpenAI. (n.d.). About. Retrieved July 17, 2023, from https://openai.com/about
OpenAI. (2023, July). Do the OpenAI API models have knowledge of current events? Retrieved July 27, 2023 from https://help.openai.com/en/articles/6639781-do-the-openai-api-models-have-knowledge-of-current-events
Thompson, A. D. (2022, December). The ChatGPT Prompt Book. Retrieved July 17, 2023, from https://t.co/g0MiXwWtkL
The University of Queensland. (2023, July 10). ChatGPT and other generative AI tools: How to cite or acknowledge generative AI tools in your assignments and publications. Retrieved July 17, 2023 from https://guides.library.uq.edu.au/referencing/chatgpt-and-generative-ai-tools